« older | Main Largehearted Boy Page | newer »
July 4, 2012
In the Largehearted Word series, the staff of Brooklyn's WORD bookstore highlights several new books released this week.
WORD is an independent neighborhood bookstore in Greenpoint, the northernmost neighborhood of Brooklyn, that recently celebrated its fifth anniversary. Our primary goal is to be whatever our community needs us to be, which currently means carrying a lot of paperback fiction (especially classics), cookbooks, board books, and absurdly cute cards and stationery. In addition, we're fiends for a good event, from the classic author reading and Q&A to potlucks and a basketball league (and anything set in a bar). We're a small operation, just 1000 square feet and four people, but we read too much, so it all works out. If a weekly dose of WORD here isn't enough for you, follow us on Twitter: @wordbrooklyn.
WORD also hosts the monthly Largehearted Lit reading series, featuring authors who participated in this blog's Book Notes series and musical guests.

The Rules of Civility
by Amor Towles
One of Christine's favorite books of last year is now available in paperback. "Manhattan, 1938: two twenty-something girls on their own meet a young man of means, and their lives are changed. For your friend who goes to museums on days off."

Up Jumps the Devil
by Michael Poore
We're not going to lie to you, Jenn picked this one purely on the basis of the cover and the back blurb. "He's made of wood. He cooks an excellent gumbo. Cows love him." Also, he's the Devil. Enough said!

Get Jiro!
by Anthony Bourdain, Joel Rose, Langdon Foss, Jose Villarrubia
This is a samurai/sushi chef/future LA/culinary war graphic novel from Anthony Bourdain. What more do you need to know?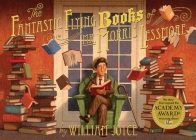 The Fantastic Flying Books of Mr. Morris Lessmore
by William Joyce
As you might remember, a short film by the same name won an Academy Award this year. This is the picture book version, and it's just as sweet and beautiful as the film. Plus, words!

WORD Brooklyn links:
WORD website
WORD blog
WORD on Twitter
WORD's Facebook page
WORD's Flickr photos

also at Largehearted Boy:
other Largehearted Word Books of the Week (weekly new book highlights)
52 Books, 52 Weeks (my yearly reading project)
Antiheroines (interviews with up and coming female comics artists)
Atomic Books Comics Preview (weekly comics & graphic novel highlights)
Book Notes (authors create music playlists for their book)
guest book reviews
musician/author interviews
Note Books (musicians discuss literature)